Faucet & Sink Installation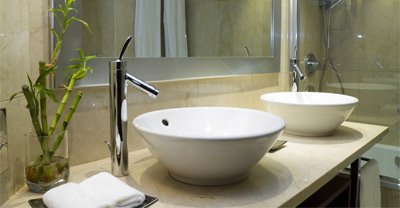 If you need Los Angeles area faucet and sink plumbing, look no further than Rooter Experts. We provide faucet and sink plumbing services executed in a professional manner in Los Angeles and at prices you can afford. Our skilled and friendly plumbing specialists will examine your faucet and sink, note possible areas or damage, and make sure the job is done to meet your expectations.
Faucet and sink plumbing usually entails drain cleaning or de-clogging of some kind. Rooter Experts can handle drain cleaning by way of hydro-jetting for deep pipe clogs or with simple sink and faucet re-piping to remove any large obstructions that may be trapped near the surface. You should always use strainers and other trapping devices to prevent hair and soap chips from going down the drain. Rooter Experts can also handle commercial sinks and faucet maintenance for larger systems to ensure your plumbing fixtures stay clog and leak free.
Plumbing Businesses in Los Angeles
Rooter Experts delivers quality plumbers to houses and businesses all over Los Angeles. Have confidence in Rooter Experts plumbers to be quick, dependable and professional. Our professional crews are always there to finish the job and live up to your standards. Rooter Experts also offers excellent commercial plumbing services that will help save your company from expensive fixes later on, if you take preventative actions now.
Don't get taken advantage of by unscrupulous plumbing businesses! Phone Rooter Experts today for any of your emergency, basic maintenance, equipment installing or long-term plumbing needs!
Plumbing Tips
Showers and Bathtubs: Faucets can be washed and reconditioned to full pressure by using vinegar solutions to clear away mineral deposit buildup.
Kitchens and Bathrooms: Leaky sinks may seem like they're no big deal, but they can be extremely costly when your water bill comes around. Fix them right away.
Bathrooms: When you have a running toilet, it might not be necessary to calla plumbing company. You may just need to replace your flush apparatus.
Kitchen: Run hot water through your garbage disposal pre and post use…10 or 15 seconds should be enough.
Outside Commercial Plumbing: Leaves aren't your friend. Make it a point to unclog backyard drains and gutters to remain clog-free.
The Plumbing Calendar: Seasonal Tips from your Los Angeles Plumber
The Winter Months:
Lots of loved ones over for the holidays? If you can, try to spread out time in the shower to avoid overuse and to conserve energy from your water heater.
Springtime:
Clean your shower head or treat yourself to a new one! You can soak it in vinegar to get rid of clogging mineral deposits and restore it's full water pressure. Or, consider an upgrade to a more water-efficient model. New shower heads have some clever features these days that save lots of water and money.
The Summer Time:
Browse your home for standing water. This can be a result of leaks, etc.
Fall:
Make sure any pipes that are in areas without heaters have proper insulation around them to avoid freezing and additional damage.
What Sets Us Apart?
Reliable
Prompt, On Time Service
24 Hour Emergency Service
Customer Service That Puts You First
Expert Knowledge with Decades of Experience