Tankless Water Heater Installation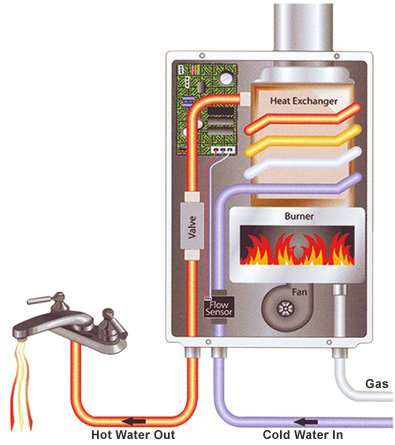 Looking for tankless water heater installation and maintenance specialists in Los Angeles or nearby cities? Rooter Experts provides professional tankless water heater installation and maintenance expertise at very affordable prices. If you need to find one of the best plumbing businesses in Los Angeles, look no further!
Tankless water heater installation and maintenance typically involves servicing defective units or simply installing new tankless water heaters in homes or larger buildings. Tankless water heaters are fantastic in terms of safety and energy-efficiency, so really consider tankless water heater installation if you need to upgrade to a new unit.
The benefits are numerous. Firstly, you help the environment by reducing water usage. Secondly, water does not need to be stored, so you cannot run out of warm water, which is great if you are part of a large family with many bodies that need to shower. Lastly, you save money on your utility bills- both water and electricity- making this a long-term investment that will pay off over time.
Los Angeles Plumbing Technicians
Rooter Experts provides top quality plumbing services to residences and businesses throughout Los Angeles. With Rooter Experts, our plumbers are always reliable and up to the quality standards of the finest Los Angeles area plumbing companies. We also offers high-quality commercial plumbing services that can help save your company from costly fixes later on if you take preventative actions now.
Leave it to the experts! Make Rooter Experts your reliable Los Angeles plumbing service for any kind of plumbing services, residential or commercial, emergency or non-emergency.
General Plumbing Tips from the Professionals
Water: Be sure to check your water heater temp and ensure it's at 120 degrees. Any hotter, you might be wasting energy in addition to upping your chances of scalding.
Kitchen: Ice cubes and citrus rinds can be a natural way of cleaning your garbage disposal. Soap helps, too.
Outdoor Plumbing: When you have a septic tank, make sure it's flushed and checked out every couple of years to avoid…horrible, horrible scenarios.
Hot Water Heaters: When you have a tank water heater, empty a few gallons of water from it annually to remove sediment build up.
Outside Commercial Plumbing: Keep window wells clean and clear of debris and leaves to ensure insulation efficiency.
The Plumber's Calendar: Plumbing Tips By Season
Winter:
Winter means the holidays and that usually lends to plenty of festive meals that contain plenty of fatty foods. Keep them out of your garbage disposal if you want it to keep working without the help of a plumbing service.
The Spring Season:
It's a good idea to seasonally look at your faucets and pipes for leaks. Make sure strainers or baskets are installed properly and all faucets are functioning normally and drip-free.
The Summer Season:
Soft floors or dead spots in the bathroom can be a sign of the wood beneath is rotting from water damage. Did you know toilets actually use about 40% of your home's water? Making sure they're efficient and sealed can impact your water bill enormously.
Autumn:
Insulation in your walls and around doors and windows can dramatically reduce your energy costs and temperature changes inside your house.
What Sets Us Apart?
Reliable
Prompt, On Time Service
24 Hour Emergency Service
Customer Service That Puts You First
Expert Knowledge with Decades of Experience