Shower & Tub Maintenance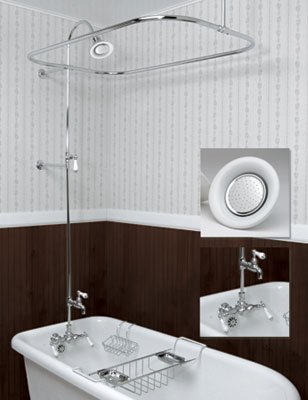 If you need to find greater Los Angeles area shower and tub maintenance, look no further than Rooter Experts for shower and tub maintenance solutions. We promise quickness, professionalism, and quality repairs, all at prices you can afford. Our top-notch and friendly plumbing experts will tackle your shower and tub maintenance services and make sure the job is done properly every time.
Shower and tub maintenance commonly calls for either drain cleaning or unclogging services in the shower or tub, or cleaning/adjusting fixtures in order to standardize water pressure. Rooter Experts can also handle stuff like shower and tub installations during home remodels or even at construction sites, commercial, industrial or residential.
Plumber in Los Angeles County
Rooter Experts offers amazing residential plumbing service to the entire Los Angeles area. Trust Rooter Experts plumbers to be quick, dependable and professional. Our fantastic plumbing experts will always be there to get the job done up to your standards, at fair rates. Looking for commercial plumbing services for your business or larger sized buildings? Rooter Experts delivers commercial plumbing services as well that will help you keep upkeep fees lower.
Leave it to the experts! Make Rooter Experts your reliable Los Angeles plumbing company for any kind of plumbing services, commercial or residential, emergency or non-emergency.
Tips from the Plumbing Company
Laundry: Many people neglect their washer and dryer hose hookups, but you should check them once in a while. When you've got protruding hoses, you should replace them to increase energy efficiency.
Laundry Room: A great way to save energy costs and water as a side effect of improving your house is to upgrade your washer and dryer. Updating your washing machines can cut your energy bill considerably and you may be subject to a tax write-off too.
Outdoor Commercial Plumbing: Victim of a commercial plumbing emergency or major leak? If you can't find a shutoff device on the damaged water line, it is easy to find the shut off valve to the whole house; it's often a hand-turnable valve within a few feet from your water meter.
Laundry Area: Try to only run the washer and dryer if you have complete loads. This will save lots of water and energy- especially in older models of washer/dryers.
Kitchen: Run water through your garbage disposal before and after use…10 or 15 seconds should be sufficient.
Bath and Shower: If you find your shower head nozzle is spraying slightly funky, try cleaning it by soaking in vinegar to wash out the mineral deposit accumulation.
The Plumber's Calendar: Plumbing Tips By Season
Winter:
Avoid grease in your drains and pipes, whether it's from a Thanksgiving Day feast or simply from making some bacon at breakfast. Why you ask? Grease solidifies inside your pipes, making them smaller and smaller until they're fully clogged.
Early Spring:
Go ahead and clean up that shower head! You can soak it in vinegar to remove clogging mineral deposits and reestablish it's full water pressure. Or, consider an upgrade to a more water-efficient model. New shower heads have some clever features these days that save a great deal of water.
The Summer Time:
Soft floors or dead spots in the bathroom can suggest the wood may actually be rotting from water damage. Did you know toilets actually use about 40 percent of your home's water? Making sure they're efficient and sealed is important.
The Autumn Months:
Make sure the temp doesn't drop too cold where your sump pump is located. Chilly temperatures can freeze them, causing them to stop working properly.
What Sets Us Apart?
Reliable
Prompt, On Time Service
24 Hour Emergency Service
Customer Service That Puts You First
Expert Knowledge with Decades of Experience