Garbage Disposal Installation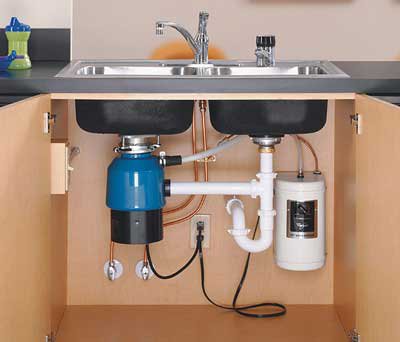 Searching for garbage disposal installation companies in Los Angeles or nearby locations? Rooter Experts can provide professional garbage disposal installation expertise at economical prices. If you're looking for one of the best plumbing companies in Los Angeles, look no further!
Garbage disposal installation involves either servicing a broken unit or replacing & installing a totally new system. Garbage disposals have to be installed really carefully in order to prevent gross backflow into the fixtures near them that use the same water line, such as sinks or dishwashers. If your dishwasher is acting weird or you smell something putrid coming from your sink, this might be your problem. Rooter Experts can also install your other home plumbing appliances in situations like a home remodel or construction of a new building.
Los Angeles Plumbing Services
Contact Rooter Experts for some of the best plumbing services and most reputable specialists in Los Angeles and nearby cities. We also offer commercial plumbing services to help larger buildings or businesses keep their plumbing expenditures down and reduce the potential risks of needing more expensive plumbing services like sewer line repairs, appliance replacement or re-piping.
Don't put up with untrustworthy plumbing companies! Call Rooter Experts today for all of your plumbing related service needs, including basic upkeep, equipment installation, preventative plumbing, commercial plumbing services or emergency services!
Plumbing Tips
Water Heater: Don't set your hot water heater any warmer than 120 degrees. You will not need any extra heating and could actually risk scalding by setting it any hotter.
Kitchen and Bathroom: Low water pressure in the sink? Look at the aerator first. It easily unscrews from the faucet and might only require a cleaning.
Septic Tanks: You'll definitely need a plumbing contractor or certified pro to check out your septic tank from time to time. Trust us.
Basements: Did you know your west coast country mates don't have basements in most cases? Don't take your basement for granted.
Kitchen: What's the most frequent season for kitchen sink drain clogs? You guessed it, right after Thanksgiving.
Kitchen Area: Make sure there isn't any water leaking underneath the faucet when the sink is running. No water should build up or trickle down there. Water beneath the sink is usually a sign of a leak and you may need tightening or replacement.
Plumbing Company Calendar: Seasonal Tips To Keep Your Plumbing in Good Shape
Winter:
Winter means holidays and usually fatty foods. Lot's of them too. Try to keep them from going down your garbage disposal if you want it to keep working properly without a plumbing service.
Early Spring:
The spring is always a really good time to check outdoor pipes for drips or leaks, as potential freezes in the winter season can cause pipe damage. If you find any pooled up water or leaky faucets, it's a good time to get them fixed! Call Rooter Experts plumbing technicians to fix them.
Summer:
Give the toilet a nice check for signs of water damage and leaks. This could mean bubbly vinyl, stains, things like that. Fix it if necessary!
Fall:
In colder areas, you can actually cover faucets with foam caps or covers found in hardware stores.
What Sets Us Apart?
Reliable
Prompt, On Time Service
24 Hour Emergency Service
Customer Service That Puts You First
Expert Knowledge with Decades of Experience