Video Camera Line Inspection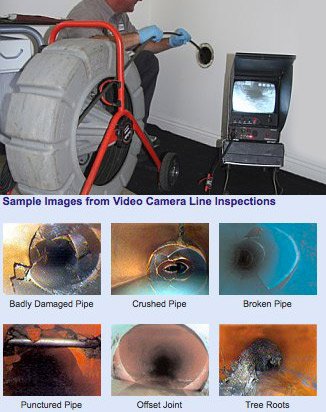 When you need greater Los Angeles area video camera line inspection, look no further than Rooter Experts for services performed as professionally as the very best plumbing companies in Los Angeles- and at rates that won't hurt your wallet. Rooter Expert's professional and helpful plumbing technicians take all the stress and guesswork out of choosing a top of the line plumbing service in Los Angeles. We get the job done right, every time.
Video camera line inspection typically involves feeding a tiny fiber-optic video camera through a plumbing system in order to diagnose a clog or damage. This is helpful, particularly in outdoor plumbing like main water lines that may have been disrupted by root growth, because it allows you to localize the issue without digging up the entire pipe.
Plumbing Companies in Los Angeles County
Rooter Experts provides excellent domestic plumbing services through the entire Los Angeles area. Count on Rooter Experts plumbers to be quick, reliable and qualified. Our amazing plumbing specialists are always there to get the job done properly at fair prices. Rooter Experts also offers excellent commercial plumbing services that will help save your company from costly repairs down the road, if you take preventative actions now.
Leave it to the experts; not gimmicky or un-reputable plumbing companies! Call Rooter Experts instead to receive top quality plumbers, no matter what kind of service you need. We offer some of the very best in commercial plumbing, domestic plumbing, appliance installations, and emergency service.
Tips From the Plumbers
Showers, Tubs and Sinks: You can clean unattractive buildup from mineral deposits using vinegar. Soak faucets or shower heads to unblock spouts.
Kitchen: Ice cubes and citrus rinds can be a superb natural way of cleaning your garbage disposal. It can help to run soapy hot water periodically as well.
Toilet: Running toilets simply means the flushing device has a broken seal . A new flushing mechanism can increase your toilet's overall performance and only cost about 15-30 bucks at the hardware store.
Washer& Dryer: Try and limit using your washing machine to when you have complete loads, or change your water levels for each load, if possible. If washing a small load, be sure your water level is adjusted accordingly if possible to save money.
Kitchen: Never decide to put grease down the drain. For real…never.
Kitchen: Once in a while, take a peek underneath the kitchen sink when doing dishes. It should never be damp. If you have water leaking call Rooter Experts plumbing service right away!
The Plumber's Calendar: Plumbing Tips By Season
Winter:
Got company staying over for the holidays? Spread out showers throughout the day to conserve hot water energy and limit the drain usage.
The Spring Season:
Take a look at your gutters and drains. Make sure they're free of debris from the previous season.
The Summer Time:
Be sure there's a wastebasket in your bathroom, so your toilet doesn't get used as a trash can.
The Fall Season:
Leaves in your gutters and your outdoor drains aren't cool. Get 'em out!
What Sets Us Apart?
Reliable
Prompt, On Time Service
24 Hour Emergency Service
Customer Service That Puts You First
Expert Knowledge with Decades of Experience