Re-Piping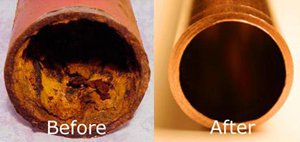 Trying to find re-piping service specialists in Southern California? Rooter Experts provides expert re-piping services at economical prices. If you are seeking one of the best plumbing providers in Los Angeles, look no further!
Re-piping is a plumbing service that involves the replacement of damaged pipes in any part of your plumbing system, whether it's underground piping or pipes near a faucet, sink or appliance that uses water. Re-piping is also often useful in home renovations when remodeling or selling a house to increase the value. Rooter Experts can also handle commercial or industrial re-piping of complex water systems and also the installation of new plumbing systems in construction projects.
Plumbing Agencies in Los Angeles
Look to Rooter Experts for some of the best plumbing services and most reputable professionals in Los Angeles and surrounding cities. Rooter Experts also offers a full line of commercial plumbing services to assist companies, rental buildings, or restaurants lower their plumbing bills. These include preventative measures that can help your building avoid pricey fixes down the road.
Leave it to the Experts; not gimmicky or un-reputable plumbing providers! Call Rooter Experts right now for all of your plumbing service needs, including basic upkeep, kitchen appliance installation, preventative plumbing, commercial plumbing, or emergency service!
General Plumbing Tips from the Professionals
Showers, Bathtubs and Sinks: You can actually clean unattractive buildup from mineral deposits by using vinegar. Soak faucets or shower heads to unblock spouts.
Garbage Disposals: If the garbage disposal is blocked and you just get that buzzing noise, try pushing reset before calling the plumbing contractor. It Is ordinarily a little red-colored switch underneath the device.
Bathroom: Running toilets normally mean a part of the flushing system has a leak, and needs to be replaced.
Sinks and Drains: Don't pour grease down the drain! For real…never.
Hot Water Heater: Your water heater area is not a closet: Do not store anything in that room, especially any combustible liquids or chemicals.
The Plumbing Calendar: Seasonal Tips from your Los Angeles Plumber
Winter:
If you're cooking a holiday bird or just frying up some Saturday morning bacon, don't put grease down the drain. Why is this important? Grease solidifies inside your pipes, making them smaller and smaller until they're so clogged, you'll need a plumber to clear the drain.
Early Spring:
It's also smart to occasionally look at your faucets and pipes for leaks. Make sure strainers are installed properly and all faucets are functioning like they're supposed to.
The Summer Time:
Take a look around the old toilet bowl for signs of water damage and leaks. This could mean bubbly vinyl, spotting, things like that. Fix it if necessary!
Fall:
Make sure the temp doesn't drop too cold wherever you keep your sump pump. Chilly temperatures can freeze them, causing them to stop working.
What Sets Us Apart?
Reliable
Prompt, On Time Service
24 Hour Emergency Service
Customer Service That Puts You First
Expert Knowledge with Decades of Experience